THE DEATH OF AMERICA BEGAN NOVEMBER 4, 2008
WHEN AMERICANS VOTED FOR THEIR OWN DEMISE
I am in mourning for the death of America.
I am in mourning for death of freedom.
I am in mourning for the death of International security.
I am in mourning for the death of any hope of attaining peace on earth.
I am in mourning for the death of financial security.
I am in mourning for the death of the 15% Capital Gain Tax.
I am in mourning for any extra money I make by working hard going to taxes to pay moochers who do not work at all.
I am in mourning for the social secutity taxes I contributed to for all those years, that they took out of my paychecks, going to illegal aliens who never contributed anything. I could have used that extra bit in my paychecks!

I am bemoaning the fact that I live in a country where ignorance and gullibility prevail.
Stupid is as stupid does... maybe we deserve what we get!!!

I FEAR what is in store for America!
I FEAR a terrorist attack that will make 9/11 seem like child's play.

One has to wonder why all our Enemies wanted Obama to be President.
I doubt it is because they want to be our friends!

Osama bin Laden can relax now.
He won't have to spend sleepless nights plotting how to destroy America.
We will do it ourselves.

The Devil can rest on his laurels also.
He has someone to do his dirty work for him.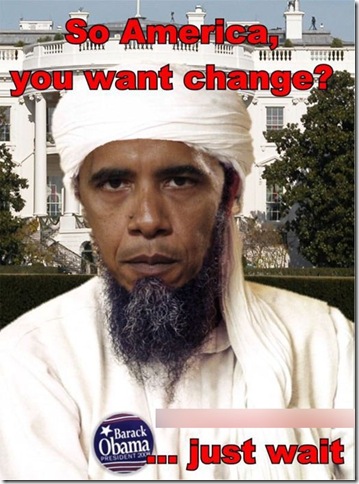 PRAY FOR AMERICA!!!
INAUGURATION DAY, JANUARY 20, 2009

PRAY FOR AMERICA!!!
Pray for the ignorant souls who have made a colossal mistake, they will soon regret, when they voted for Osama (Oops, I mean Obama… kind of the same thing). How can you look into Obama's face, with those shifty eyes, purple lips, and arrogant smile, and not see evil?

A COLLOSAL MISTAKE HAS BEEN MADE BY THE AMERICAN PEOPLE WHO OBVIOUSLY HAVE A DEATH WISH AND APPARENTLY AN IQ OF ABOUT -5.

Only in America, after Muslim Terrorists flew planes into the World Trade Center on 9/11, would we choose a Muslin president (Hello… Barack… Hussain… Muhammad… Obama… how much more Muslim can you get), and with terrorist names to boot!!!!

Also, I am tired of hearing "First Black President"… He is only partly black (Bi-racial/Mulatto). He is more Muslim than he is black. If your father is a Muslim and your grandfather is a Muslim, and you were born into that family, YOU ARE A MUSLIM!!!!!


So, tell it like it is… call a spade a spade (pun intended)…
Obama is the first Bi-racial/Mulatto Muslim President!!!!