A SINGULARLY
ELEGANT NEW YEARS EVE
DECEMBER 31, 2003

Picture This:
It is New Years Eve in Pompano Beach, Florida. In a 9th floor condo overlooking the city lights of Fort Lauderdale in the distance, a nearly 60-year-old lady with exactly one week to the day to still be "59" with chances looking slim for a 10-year wish for a surprise party is all glammed up in her finest New Years regalia, with nowhere to go and nobody to take her there. She dresses in her finest evening clothes and sexiest high-heeled strappy spike heels, having first tried on 3 or 4 different outfits, posing in front of the full-length mirror dressed in each outfit, holding an empty champagne glass in her hand, to see which outfit is glamorous enough for the occasion and looks best while "toasting" in the New Year.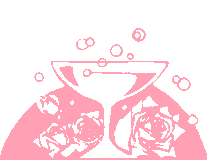 At the stroke of midnight, with Dick Clark's Times Square New Year's celebration playing on the television in the background, she puts on a New Years tophat and blows into one of those New Years noisemakers. Then, with her trusty glass of champagne, now brimming with the bubbly (nice old-fashioned champagne glass with the wide rim like in the "Audrey Hepburn goes to New York and falls in love with a handsome man who buys her bling blings from Tiffany's" movies) in her hand, the lady walks slowly and deliberately, even a bit sexily even though nobody will appreciate the effort, over to the full-length mirror and raises her glass, shouting "Happy New Year" to her "twin" in the mirror, and then gives herself the perfuntory New Years kiss (to be Windexed off the mirror the first thing the next morning).

This glammed up lady with no place to go then puts some nice dance music on the stereo (tango, samba, waltz, cha-cha, fox-trot, and finally Johnny Mathis' "Chances Are"), and spins around the living room with her handsome imaginary partner. Then, with her recently refilled bubbly champagne glass in hand, dramatically, with a flairing sweep of her "gown", ventures onto the screened-in patio to watch distant firework displays ushering in the New Year around town and pictures herself, looking 30 years younger, standing on a similar penthouse balcony, but in the heart of Manhattan, like in the old romantic films she loves to watch, and raises her last glass of bubbly to her lips one final time and rings in the New Year in "singularly" elegant style.

Another year has flown by all too quickly, and for the moment, all is well with the world.

It doesn't get much better than this!!!!

HAPPY NEW YEAR!!!


Barbara


HAPPY NEW YEAR!!!