DINING OUT
WITH BARBARA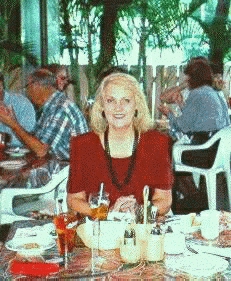 FLORIDA DINING
A "PRIME" PRIME RIB AT HOUSTON'S
POMPANO BEACH, FLORIDA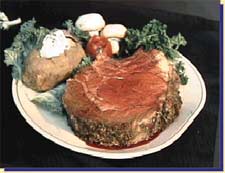 *****HOUSTON'S (2821 E. Atlantic Blvd., Pompano Beach, FL 33062) -- After eating way too many mediocre prime ribs at restaurants claiming to have "the best in town", I told somebody you can't get a good prime rib in Florida. I was wrong! You can!! Houston's prime rib came pretty close to those coveted prime ribs I used to devour in Boston. The only thing missing was the popover!! The prime rib was thick and juicy and tender, melted like butter in my mouth, and even had a bone attached (a rarity in this neck of the woods). Herb-crusted outside and rare to medium rare (pink) inside... perfection! Bravo... keep up the good work, Houston's! After lunch or dinner, take your drink and walk down to their boat dock and sit and watch the boats along the intracoastal. If you have a boat, you can pull up to their dock and park your boat while you dine.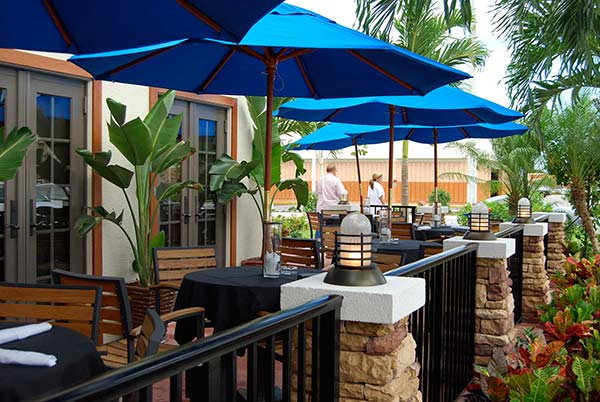 *****J.MARKS (1490 NE 23th Street (Copans Road), Pompano Beach FL 33062) -- A place locally that serves fresh quality food with such a great variety including dry-aged steaks. The restaurant offers a full bar, lounge, sunroom, (conference/meeting) and outside patio. The aged prime rib is delicious (not as large as Houston's but a lot less expensive at $22.95 for 12 oz). I also highly recommend the Crispy Walnut Shrimp ($13.95). If you dine from 2 PM - 5 PM, J.Marks has a mid-day menu and you can get an 8 oz prime rib for $14.95 and the Crispy Walnut Shrimp. Fish and Chips, Five Cheese Pasta, or Orange Chicken for $8.95, Oriental Salad for $7.95 and Half Rack of Ribs for $12.95. For a lighter meal, the Blue Peppercorn Burger is unique and tasty. For sides, I recommend the Sweet Potato Fries, Asparagus, and Garlic Mashed Potatoes. Its location in front of the Pompano Square Mall makes it a great place to stop for lunch or dinner after shopping and if it is a nice day, the patio dining area is perfect.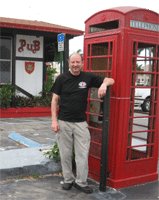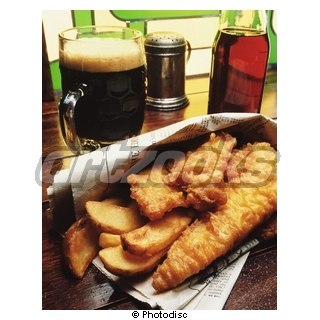 ****THE KING'S HEAD PUB (500 E. Dania Beach Blvd, Dania Beach, FL) -- This quaint little British pub is a delight. There is a cozy dining room with books and Shakespearean photos on the wall, reminding one of medieval times. Everything is cooked to order and the ingredients are fresh and the dishes have a nice international flair. Unlike Jimbos, The King's Head Pub serves a "real" vodka martini in a proper martini glass, with 3 pitted olives, and charges only $5.00. Anything you order here is delicious and cooked just right. The burgers are the best in Dania Beach, the french fries are made from real slices of potato, golden brown and crispy, The fish and chips are crunchy and delicious and the portion is humungus. One of my favorite lunches is the Yorkshire Pudding, which is basically a large popover crowned with sauteed beef tenderloin tips, served with a Diablo sauce. For dinner, you can't go wrong with the Fish and Chips, Roasted Rack of Lamb, or Filet Mignon King's Head, which is stuffed with spinach and served with stilton port wine sauce.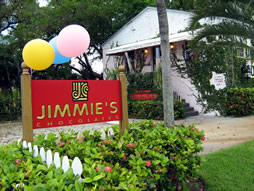 ***JIMMIE'S CHOCOLATE SHOPPE AND GARDEN CAFE (148 North Federal Highway, Dania Beach, FL) -- Since 1947, JIMMIE'S has been known for the best in homemade, handmade chocolates. In front of the Chocolate store is JIMMIE'S Café. The Café features an ecclectic menu of gourmet food, fine wines, imported & domestic beer, specialty coffee and chocolate drinks, and decadent desserts. You'll love the Bistro ambience of the upstairs dining room and the garden patios at this hidden gem of a restaurant. It is a great afternoon getaway for lunch and a unique restaurant for dinner.






JIMBO'S SANDBAR (6200 North Ocean Drive, Dania Beach, FL) -- This restaurant took over Bongo Limbo, which took over Angler. I ordered a martini with a well brand. It was served, not in a martini glass (the main reason I would ever have for ordering a martini in the first place is for the glass), but in an ordinary very small cocktail glass (bigger than a shot glass but smaller than an old-fashioned glass). As if that was not bad enough, the olives had PITS!!!!! For this, I was charged $6.50??? For a Stolie martini in a proper martini glass with pitted olives, this might be an acceptable price, but for what I got, it was a ripoff. At another Dania Beach restaurant, The King's Head Pub, you get a "real" martini, served in a proper martini glass with 3 pitted olives for $5.00!!! The burger was overpriced for a plain burger (cheese was 50 cents extra). Again, at the King's Head Pub, I could have gotten a burger with a half pound of fresh ground beef, with melted stilton cheese! I substituted french fries for the onion rings at another 75 cents, and the onion rings were the best part of the meal. They were pretty good, although nowhere near Martin's Drive-in in Rochester, NH, or even Kelly's in Ft. Lauderdale. I just felt that for what my entire bill came to, I could have gotten a really great meal elsewhere. I will not be returning to Jimbo's anytime soon.





NEW ENGLAND DINING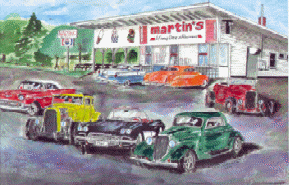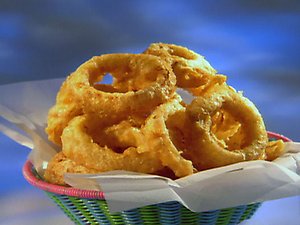 *****MARTIN'S DRIVE-IN RESTAURANT (125 Old Milton Rd, Rochester, NH, 03839) -- Martin's Drive-in brings back pleasant memories of my high school days when I used to frequent this seasonal restaurant several times a week from May to October, when they are open. People come from surrounding towns for their Friday night fried haddock dinner. The clam roll is one of the best in New England and the delicious Ipswich clams, golden fried to perfection, melt in your mouth and spill out over the roll, they give you so many. The very best thing about Martin's Drive-in is the onion rings. They are huge, crispy, deep golden brown, and the tastiest onion rings I have ever had in my life. I have searched high and low for onion rings that could meet the test of Martin's perfection, but have yet to find them. Kelly's in Ft. Lauderdale comes a close second, but NOBODY makes onion rings like Martin's Drive-in. They give you a lot, too!!! A visit to New Hampshire is not complete until you have eaten a clam roll and onion rings at Martin's Drive-in.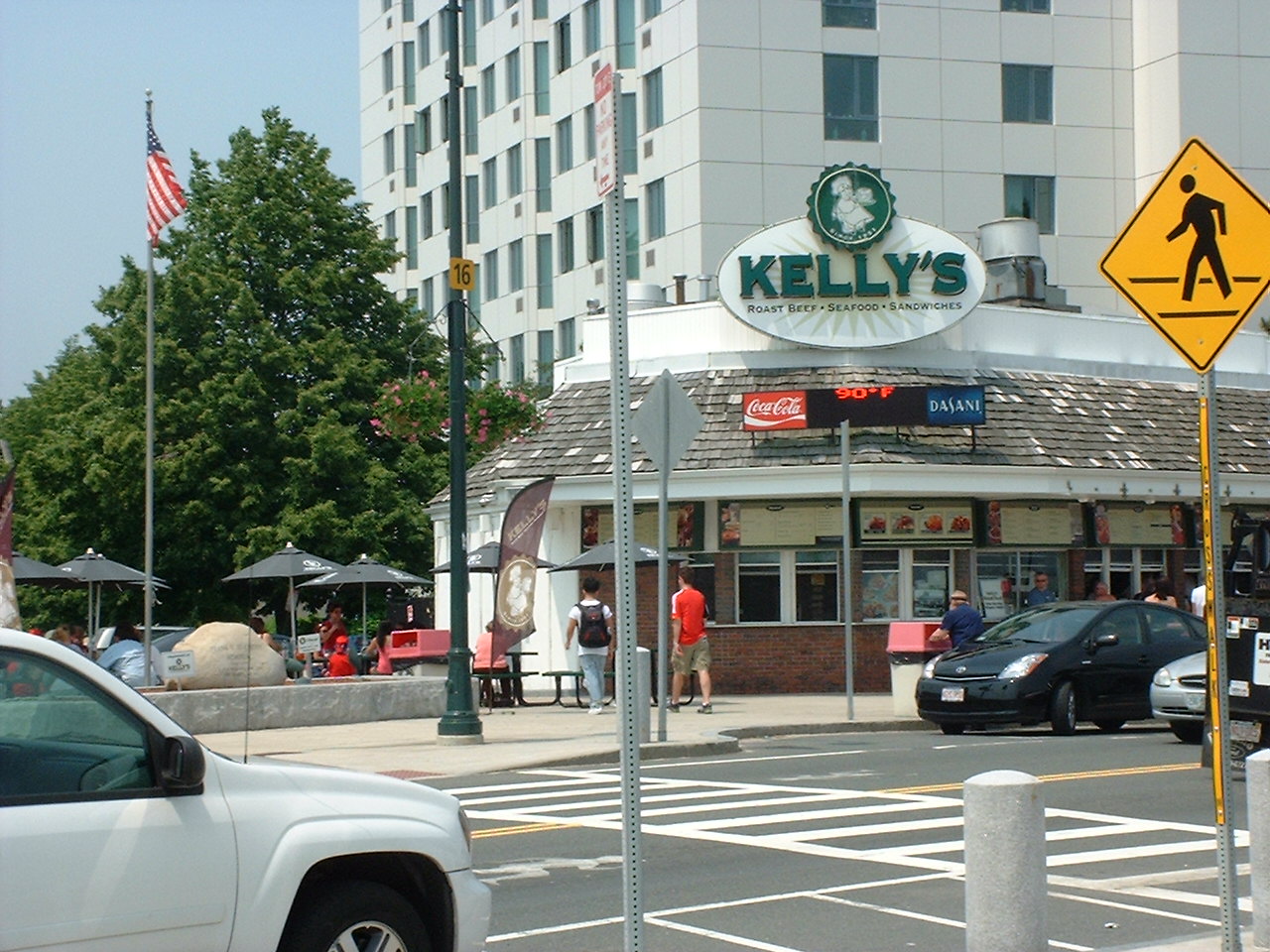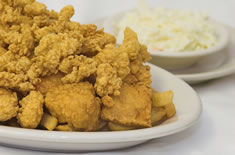 *****KELLY'S ROAST BEEF (410 Revere Beach Blvd, Revere, MA 02151) -- Famous for its roast beef sandwich, the real stars of this beachfront restaurant are the outstanding Ipswich lobster rolls and clam rolls. A trip to the Boston area isn't complete without a side trip to Kelly's on Revere Beach. There is a Kelly's in Ft. Lauderdale, which is very good, but there is nothing like eating a clam roll on the beach in New England.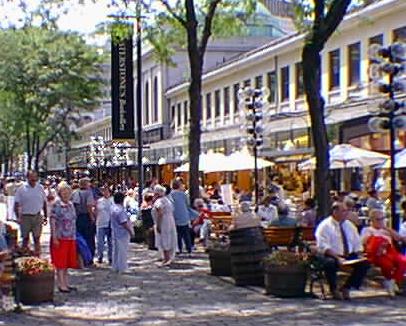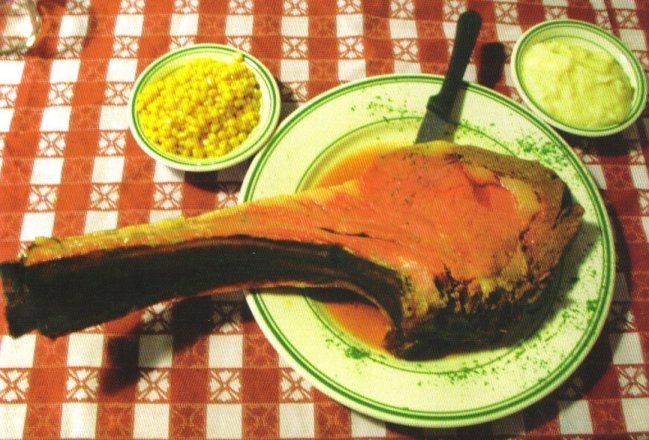 *****DURGIN-PARK (Fanuel Hall, Boston, MA) -- This centuries-old Boston landmark has been serving up New England Cuisine since the 1800's. They are famous for their New England clam bakes, clam chowder, Boston baked beans, prime rib on the bone that extends beyond the plate, old-fashioned New England pot roast, scallops wrapped in bacon, Boston cream pie, and, of course, their unique trademark coffee jello. A popular place for lunch in Boston, Durgin-Park brings back memories of an old-fashioned New England eatery, where large helpings and friendly service prevail. It is a favorite of mine whenever I am in the Boston area. Everything is good here!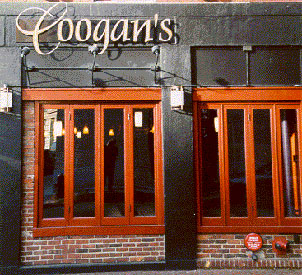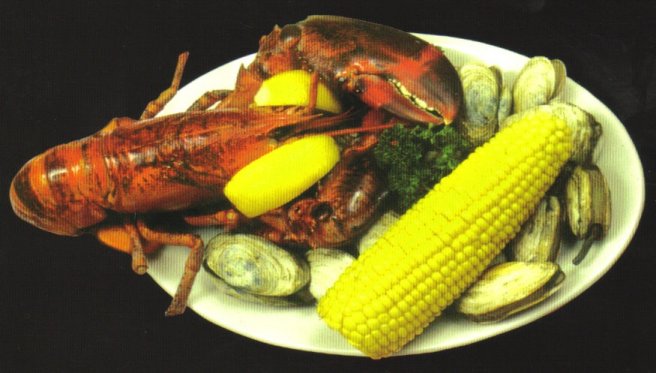 ****COOGAN'S BLUFF RESTAURANT (171 Milk Street, Boston, MA 02109) -- This little gem in the heart of the financial district, is an excellent choice for lunch or dinner. Their aged Black Angus steaks are supurb and in the summer, you can get a one-pound Maine Lobster with French Fries for $7.95! By day it is a homey nautical pub and by night is a swinging club. I make sure I have a lobster lunch here several times a week when I am in Boston.



Bon Appetit!

"Life is too short to eat mediocre food!" ...Grandma Patches



This site was created by:
Barbara A. Larkin, Webweaver
&copy http://www.webweavery.com